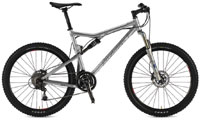 Santa Cruz Blur
Santa Cruz Bicycles has improved the original VPP Blur into what is now the Blur XC. The Virtual Pivot Point suspension still comes with 115mm of travel behind, but the chainstays are shorter, the top tube longer, and the tubing is now lighter. If you are interested in Cross Country (XC) Mountain Biking, you can't go wrong with this bike.
There are 3 models currently, the Blur XC (the lightest, and race worthy), the Blur LT, which is beefed up a bit, more suspension, and a more slacked head angle, and the Blur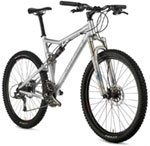 4X, which as the name would suggest, is made exclusively for 4X and slalom mountain bike racing. It's head tube is much stronger and the frame geometry is altered to handle it's core purpose. All of the bikes come with the VPP technology, controling pedal-induced bobbing and reducing wasted force.
Santa Cruz Bicycles is on top of their game right now, with incredible bikes for all types of riders. You simply can't find a bad bike in the lineup and the Santa Cruz Blur is no exception.
For more information and specs on their other bikes, check out their website at http://www.santacruzbicycles.com/.