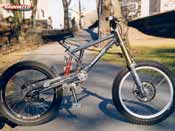 Brooklyn Machine Works started making 20" frames, cruisers, rim brakes, and various bmx accessories. As they experimented with bigger and stronger bikes (20" BMX to full-suspension BMX to the supertrucker...) their focus moved more towards the big bikes of downhill.
The "TMX" is a good example of this, and is their "most recent step in Brooklyn's evolution towards creating the ultimate downhill bike." The result of several years of hardcore testing and design evolution. The TMX is made entirely from tig-welded 4130 chro-moly steel, the bike sports 10.5" of fully-active rear travel, an adjustable head tube angle, super-strong gussets, and classic brooklyn strength.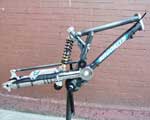 At the back of the bike, rear travel and shock rate are both adjustable. In addition, the new FOX 2.75" stroke x 8.75" eyelet shock can be used to produce slightly less travel (8" to 9.75"). The TMX features our dual chain Independent Drive System. If you're not familiar with this system, the reasoning behind it is very simple: it works and it works well. Once you experience this system, you will feel the difference in every other full suspension bike. There is no drivetrain induced shock compression (which robs pedaling power). There is no drivetrain induced shock lockout (which robs suspension travel). There is no chain grow at all!
Click photos to enlarge, then check out their site for more details.