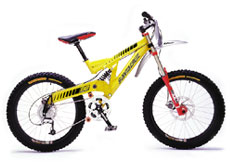 Ok, this bike has been on the top of my wish list since I tested one in Folsom, California last year. I drooled over it's looks, but when I sat on it, . . . marshmallows baby, marshmallows.
The bike that won the European DH Championships this year. No, Bruno did not have a special $25,000 factory custom Super 8, this is the exact same bike you can buy. Put our DH kit on one of these frames and go racing! The new Super 8 features 8.5" rear travel, adjustable ride height, shock timing, wheelbase, and accepts up to 9" travel forks!

The new Santa Cruz Super 8 can be configured with 24" or 26" wheels. Comes with a 14mm thru-axle rear hub with 160mm spacing (zero dish wheel). This is the first ever to be put in production and comes stock with the Super 8. Frame weighs 11 lbs.
Santa Cruz has been making this thing since 97. It was modified from their old downhill bike the Heckler. Today it is beefier and better. Check out Kranked IV for some good riding video with the Super 8, but I'm telling you, go down and sit on one. Just go down and sit on one. Marshmallows baby.