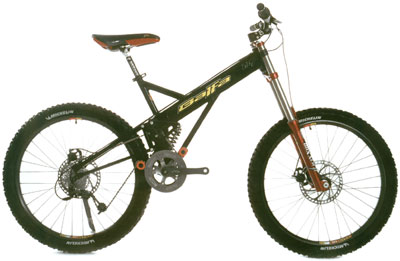 For over a decade the team at Balfa has been building good bikes, with two commom themes, innovation and dependability. The BB7 is both.
Innovation: An aluminum main frame is connected via sealed bearings to a steel chromoly swing arm with one piece bent chain stays. The steel rear end enables the use of smaller tubing for greater tire clearance.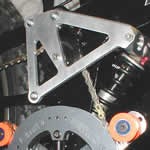 A "Drive High" high pivot pulley system keeps the chain next to the pivot and removes all problems of chain tension while keeping the rear triangle fully active and allowing for almost unlimited travel (9 inches). Finally, the design of the suspension supports "Parallel Trajectory". The simplest explanation is your rear wheel follows the same path as your front wheel when under impact while riding.
Dependability: One of Balfa's sayings is, "Strength dictates the weight, not the other way around." Probably one of their reasons for using steel in their frames, but definately why they can offer a 1 to 2 year warranty "no matter what you use your bike for". The proof is in the customers opinions which seem to be strong and loyal.
I may just have to go get me one and see if I convert as well.