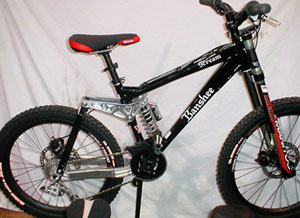 From North Vancouver, British Columbia comes a a group of guys that seem to like to ride hard and make bikes to support their habit. By itself that isn't unique. What is different is the confidence displayed in their mission statement and bike design.
Banshee Bikes wants to:
Turn the whole world on to the joy of cycling
Make the best bicycles in the world
Enhance customer riding experience with exemplary service
Create a variety of bike designs to suit the changing requirements of high performance riders
Never compromise cost for performance or safety
Reward their employees
Offer justice and prosperity for all
From what I've seen and heard, the Banshee Scream is a testament to that mission statement. This is a bike that was designed and built for North Shore riding. Banshee Bikes will never claim this is a light bike. They do say it is the toughest. Easton's heaviest gauge RAD tubes, "massive" Kegger head tube, precision ball bearing pivots and reinforced chainstays riding on 8" of progressive suspension.
If that wasn't enough, the bike just plain looks good. If you don't agree, just change the angles, BB height, wheelbase and color.
For more information on the Banshee Scream or their other bikes, check out their website at http://www.bansheebikes.com.