If you're ready for the big leagues of suspension, The Canfield Brothers (Lance and Chris) based out of Utah, may have put together the perfect bike for you. The Fatty Fat is a slimmed down version of their Big Fat Fatty Fat, with only 10" of rear wheel travel supported by an Avalanche DHS 3.0 shock. The suspension path was designed to mimic the forks wheel path. It travels rearward, up and away from the obstacles that come in your path. They claim this new engineering should help you maintain your speed on those decents, which is all we really care about. ;)
Also new is a "naturally progressive bottom-out feature" called the moto-link which is added to allow the suspesion to feel smooth over small bumps yet maintain a firm bottom out. A higher pivot point gives a smile to anyone that expects to pedal this beast, and the third pulley in the chain path cancels out any chain stretch.
This bike is innovative as well as good looking. If you're looking at a new bike for the season, and want to ride it hard, Contact Lance or Chris to have them start building your custom Fatty Fat today.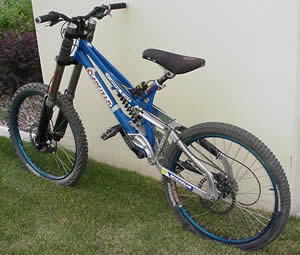 Extra Specs:
160mm wide Razor Rock rear hub with a 20mm through axle
Sealed bearings w/ rubber O-rings.
Twin top tube with 27 3/4" standover height
Profile bottom braket and cranks
Heavy gusseting (of course)