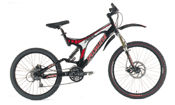 It was 8 years since I purchased my Cannondale Super V 900. Man that thing was cool. It looked different, but awesome. You have to understand, I was coming from a 1983 Schwinn High Sierra with a Scott Shock; the first production Mountain Bike with a pretty crappy shock (by today's standards) as an upgrade to the curved aluminum forks that came with the bike. When I walked into The Bike Shop in Anchorage Alaska 8 summers ago, I was ready for something with a lot of suspension. My friends thought I was crazy. "Full suspension??? Who rides full suspension? You won't be able to climb . . yadi, yadi . . ." What's really funny, is that we thought the 2 inches on the front and back was suspension! What a long way bikes have come.
8 years later, I'm at a Kranked III presentation on the Utah Valley State College campus and looking at the display of a bike with 6 inches on the front and 5 1/2 on the back; 3 times the travel!! This thing for all intensive purposes is a motorcycle. It was the coolest looking thing I'd seen in 8 years. I had to have it. Luckily my Uncle Visa was able to cover me until I could earn the $$ needed for the beast. Still paying off my Uncle, but I got my Big Hit. The first entry into the downhill scene by Specialized.
What I liked most the bike first off was the inclusion of good components. This bike came stock with a Marzocchi Junior T. Bomber, Hayes Disk brakes, Vanilla Fox (coil-over) rear shock, and XTR components! Even though the FSR line had a lot of rave reviews, I still was a little skeptical of the bike comparing to the handling capabilities of my Super V or the more expensive and modern Cannondale Jeckyl.
Ok, I fell in love with the suspension. When you have that much, it's hard to complain about anything else. The bike felt good, but different. It was a totally different riding position. After years of being laid-out on a large cross-country frame, it was difficult to adjust to sitting upright.
After a few rides I concluded that the thing does not handle like a cannondale on tight singletrack, and it took some head angle adjustments to help me feel more comfortable. Nonetheless, rock gutters, drops, and steep hills in general were eaten up by this bike. Bottom line: I can't ever go back to less travel.