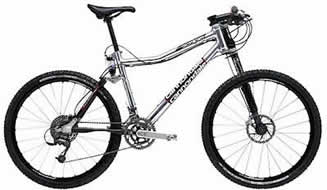 The Scalpel was named for its light weight, precise handling, and "cutting-edge" technology. This race machine will apparently be ridden by all Volvo/Cannondale cross-country racers. Even Tinker Juarez, who was hesitant at first about moving from hardtail, now backs the bike enthusiastically.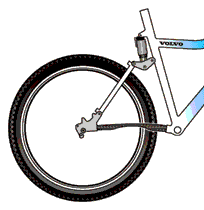 This is a full suspension bike that weighs just 23 lbs / 10.4 kg - even with dual disc brakes and tubeless tires! It has 2½" / 63 mm of fully useable rear wheel travel and the now proven Lefty Carbon ELO, with 85mm. Both come with electronic lockout. This means with the click of a button, you can turn on and off your shocks. Carbon fiber, fiberglass, and nylon composite chainstays have a lot of flex as shown.
Still unsure about the lefty? It's not going away. Look for other companies to follow. Hold the front tire between your legs and torque on the handlebars. Stiff, huh? Now see if you can find any bike in the shop and do the same thing. You'll have a hard time finding anything that will come close. Cannondale knows what they are doing. They've always been innovators and are putting all the cards on the table with yet another well made racing bike.