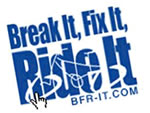 With mountain bikes getting more and more technical these days it gets harder and harder to fix your bike on your own. I never thought that after working as a bike tech and riding for so many years, that I'd have to rely on my local bike shop so often. Disk brakes, advanced suspension systems and highly technical frame designs have kept me spending quite a chunk of change for repairs and maintenance over the last few years.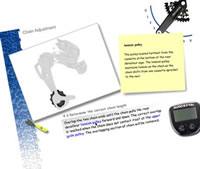 Although I will still support my local shop with repairs that are either too time consuming or require complex tools, the new interactive mountain bike repair CD-ROM from Break-It, Fix-It, Ride-It has given me the best instruction yet on installing, repairing, maintaining, and upgrading mountain bike components.
I was surprised at both the detail and complexity of the instruction, as well as the simplicity of the design interface and process. The program navigation is completely visual. You don't have to know names of anything. Just look at a picture of a bike and point to the part where you want to repair, replace or adjust. It'll tell you what the name of the part of the bike is as well as all the sub-parts. You can go as deep as you want, down to individual limit skrews on your derailers, for example, with super high resolution photos. Everything is cross referenced so any part or tool name in the text is linked to a definition an picture! I was amazed at how much I didn't know about my bike.

With the easies step by step instructions and detailed close up photos of every step of the process, this thing could quickly be required viewing for bike shop mechanic instruction. And at 30 bones, it'll pay for itself with the first home tuneup you do.
These guys teamed up with Intense Cycles, Hayes, SRAM, Michelin and other sponsers to put out a great product.
Check out there site and a demo of the product at: http://www.bfr-it.com