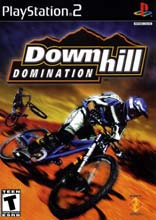 For years I've been wondering why no one could make a game that represented mountain biking well. There are plenty of great skateboarding, snowboarding and motocross games, but nothing on a bike. The games section of Bikeaddict has a few time wasting web games, but with the exception of No Fear's Downhill Mountain Biking game in 1999 (which wasn't very good), there wasn't much to get excited about.
With Incog's release of Downhill Domination for the Playstation 2, we finally have mountain bike game representation. Call me biased as a mountain biker, but this is a great game!
The courses include wide open Freeride environments, shorter Mountain Cross, Slalom tracks brought back to life, and Technical Downhill. The pace is fast and very realistic. The 50+ foot gaps and drops only add to the fun and make me feel a little like Joshua Bender (who appears in the opening video).
At first I was looking at generic Rider options and either a Trek or Specialized bike. After a few wins, I was unlocking a list of riders including Brian Lopes, Eric Carter, Missy Glove, Richie Schley, and Tara Llanes. Bike manufacturers included Ellsworth, Intense, Specialized, Trek, Giant and others. This became a REAL mountain bike game!
If you like mountain biking and you like video games, you have to get this one. It's the only thing that is keeping me sane through this cold snowy winter in Utah.
Incog is best known for it's Twisted Metal work including Twisted Metal 2, which to this day is probably one of the best playstation 1 multiplayer games of all time. Base out of Salt Lake City, they were a good fit for a sport that's so popular in Utah.
Go get yourself a Playstation 2 and then pick yourself up a copy of Downhill Domination.