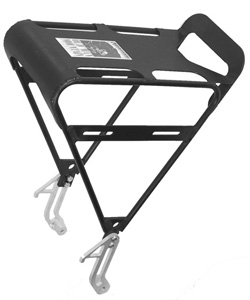 Channing Hammond of Santa Barbara, California may have created the first full suspension compatible rear rack. The Cold Springs Expedition (rear), named after his favorite trail, seems to be the solution to an old problem.
Channing's company, Old Man Mountain, claims that their racks will fit almost any mountain bike and can take loads of punishment. With a strong background in engineering and metal fabrication, as well as complete control over the production, these guys should have no problem innovating and stand a good chance of smoking any competition.
If you've been dying to go bike camping like I have, this may be just the thing to make the trip worthwhile. There are plenty of places you can't go with a trailer, but not any that'll keep you out with this thing attached.
Once we get a hold of one of these we'll let you know if our opinion changes, but in the meantime, take a look at the Old Man Mountain site for pics, information and pricing.