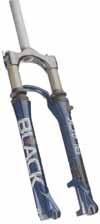 Manitou's "Black" line of forks are scheduled for release in 2002 and are sure to cause a ruckus. The new line of forks will be replacing Manitou's SX and X-Vert. A reversed arch now claims to offer increased stiffness which will result in more control, smoother-moving travel, and better tire clearance.
The forks will fall in a price range of $250-$500, named Black Comp, Black Elite, Black Elite Air, and Black Super Air which has adjustable travel, Quick Range TPC, an aluminum steerer, hollow crown, Manitou's hybrid coil/air spring, adjustable rebound damping and lockout. It also has "Rapid Travel", which is comprised of a small lever at the bottom of the left leg. When the lever is flipped and fork pushed down, the travel is reduced. Repeat the process to return to it's optimum length. It adjusts between 100 and 120mm. The Elite Air is the only one of the 4 that does not have the "Rapid Travel Adjust".
Enlarge the photo at right and notice the "Mini Boots" which have replaced the Manitou's standard full length rubbers. The new "minis" incorporate a long scraper lip to clean the leg as it slides down to prevent contamination of the seals. Also evident on the example fork at right is not thru-axle. This will NOT be an option as Manitou feels the new fork stiffness nullifies the need.
Click picture at right to enlarge.