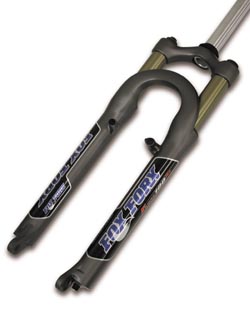 If you are looking for design and colors, don't look here. If you are expecting a weightless wonder, don't pay attention, at least yet.
With Fox's entry into the fork market the stayed true to their core values in making a no nonsense highend fork with a "superior stiffness-to-weight ratio". Fox is claiming that the forks, which will weigh between 3.57 and 4.14-pounds, will be as stiff as any thru-axle fork currently on the market.
The naming scheme will stay the same as their single rear suspension shocks. Vanilla models will be coil sprung and the Float models air sprung. Vanilla models will use an externally relieved crown and the Float models will get a lighter, hollow crown.
All forks will feature adjustable rebound and nine of the 13 models feature lockout, and five of the forks have external low-speed compression. Those external adjustments are all achieved from the top of the right-hand leg with stacked aluminum knobs and bezels.
The forks WON'T come with boots. FOX feels that their patented seals are the best on the market. "We're not using a three-cent seal," said Fox Field tester Mike Marquez.
The Fox forks will have long upper bushing that are said to "maximize rigidity and minimize wear". The Teflon-backed bushings have been designed for minimal drag by having grooves sliced into the bushings that allow oil to flow to the upper bushing and top seal.