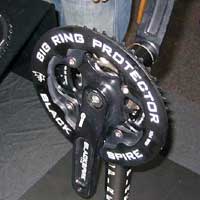 Anyone that knows me will tell you I like to ride hard and expect my equipment to take the abuse. I've broken frames, bent forks, torqued wheels and shredded seats. And that's not including the time my bike blew out of the back of my truck on the highway. Today there's only 2 things on my bike I have 100% confidence in and their both made by Blackspire.
Blackspire Bicycle Components doesn't make a lot of bicycle parts, but what they do make, they make well.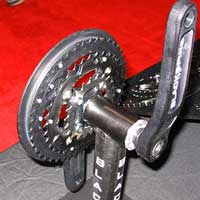 The Big Ring Protector is just one more example. For those freeriders that still can't seem to get rid of their large ring, here's the solution. Keep them all and add "305g's of rock crackin' heavy metal" to the outside of all three chain rings. Your calves will say thank you and your bike will love you. More importantly, you will think much less of fallen logs, small boulders and any other obstacles in your way.
The Canadians at Blackspire promote their slogan "Built For Rough Play" on their website. After buying an entire bike multiple times over in parts, I've got to ask, why aren't all bike parts made that way!!!??
Thanks for making some great products Blackspire.